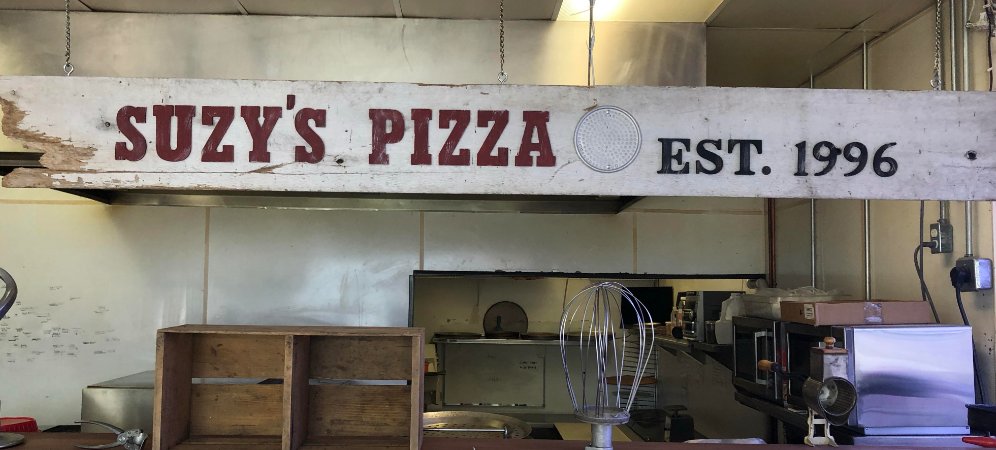 Home
Important Announcement
Suzy's Pizza is OPEN for CARRY-OUT and DELIVERY. Limited Dine-in services available.
Suzy's Pizza

of Plano
​​​​​​​
What do you love about pizza? If it's fresh vegetable toppings, flavorful cheese, a sweet tomato sauce or soft crust that melts in your mouth - Suzy's Pizza is sure to become your favorite. Since opening in 1996, Suzy's Pizza has been dedicated to serving Plano and surrounding communities with our famous thin crust pizza, and delicious sandwiches. We offer dine-in, delivery and carry out. Get your piping hot pizza fresh from the oven--just call us at
Suzy's Promise

To provide you with "Pizza At Its Best" we start fresh daily with homemade dough from scratch and the freshest ingredients. We always welcome your comments and/or suggestions because we strive to provide the best customer service and satisfaction. It is truly important to us.​​​​​​​
​​​​​​​
Suzy's Famous Thin Crust Pizza
A Variety of Suzy's Toppings
Choose from the following: Italian Sausage, Mushroom, Green Pepper, Green Olive, Black Olive, Onion, Tomato, Pepperoni, Ham, American Bacon, Ground Beef, Pineapple, Jalapeno, Cheddar Cheese, Canadian Bacon, Banana Peppers, Garlic, *Chicken, *Sliced Beef, *Anchovy *Double Topping charge
12" Pizza (Serves 1-2)
Extra toppings: $1.50 each
14" Pizza (Serves 2-3)
Extra toppings: $1.75 each
16" Pizza (Serves 3-4)
Extra toppings: $2.00 each
Thick crust available in 16" - Add $2.50
18" Pizza (Serves 4-5)
Extra toppings: $2.30 each
Suzy's Favorite Pizzas
Supreme
Sausage, Mushroom, Green Pepper, Tomato and Green Olive
12"(20.34) 14"(22.79) 16"(26.99) 18"(29.99)
Special
American Bacon, Mushroom, Onion and Green Pepper
12"(18.84) 14"(21.04) 16"(24.99) 18"(27.69)
Taco
Special Sauce, Ground Beef, Lettuce, Onion, Tomato and Cheddar Cheese
12"(21.84) 14"(24.54) 16"(28.99) 18"(32.29)
Lotta Meat
Sausage, Pepperoni, American Bacon, Ham and Ground Beef
12"(20.34) 14"(22.79) 16"(26.99) 18"(29.99)
Lotta Cheese
Mozzarella, American, Parmesan and Cheddar Cheese
12"(18.84) 14"(21.04) 16"(24.99) 18"(27.69)
Vegetarian
Green Pepper, Mushroom and Tomato
12"(17.34) 14"(19.29) 16"(22.99) 18"(25.39)
Hawaiian
Pineapple and Canadian Bacon
12"(16.84) 14"(18.54) 16"(21.99) 18"(24.09)
BBQ
Sweet Baby Ray Barbeque Sauce with Chicken or Sliced Beef
12"(15.84) 14"(17.54) 16"(20.99) 18"(23.09)
The Works
Sausage, Mushroom, Green Pepper, Tomato, Green Olive, Black Olive, Onion and Pepperoni
12"(24.84) 14"(28.04) 16"(32.99) 18"(36.89)
All Prices Exclude Tax • Prices Subject to Change Without Notice • Effective 09/01/2020
All sandwiches on a 6" French roll unless specified
Italian Beef
Tender and juicy sliced beef piled high and seasoned to perfection 6.99
Cheezy Beef
Italian Beef sandwich smothered with mozzarella cheese and oven toasted 7.99
Suzy's Famous Beefeater
Italian Beef with melted Swiss cheese on toasted sourdough bread with garlic butter 7.99
Meatball Sandwich
(3) Tender all-beef Italian meatballs 6.99
The Big Reaper
Tender all-beef Italian meatballs covered with sliced Italian Beef with pizza sauce and mozzarella cheese and oven toasted 8.99
Chicken Fingers
(6) All white breast strips 6.99
Pizza Bread w/ Cheese
6" French roll sliced open and topped with pizza sauce and mozzarella 5.99
Make it a Combo Meal
French Fries and a Pop 2.99
(1) Side Hot or Mild Peppers - No extra charge
Add Mozzarella 1.00
All other toppings 0.75
Two ounce side cup of extra peppers or sauce 0.50
All Prices Exclude Tax • Prices Subject to Change Without Notice • Effective 09/01/2020
Appetizers / Side Orders
Mozzarella Cheese Sticks ( 6 per order )
Mozzarella cheese sticks - 6 pieces served with a side of sauce 5.99
Jalapeno Poppers ( 6 per order )
Jalapeno pepper halves stuffed with cheddar cheese - 6 pieces served with side of ranch 6.49
Combo
Try a combo of each appetizer - (3) Cheese sticks and (3) Poppers with side of pizza sauce and ranch 6.99
Garlic Bread
6" French roll with a spread of garlic butter and lightly toasted with a side of pizza sauce 3.00
Garlic Bread with Cheese
6" French roll with garlic butter smothered with fresh melted mozzarella cheese, oven toasted with a side of pizza sauce 4.99
Gourmet Breadsticks ( 6 per order )
Gourmet breadsticks with a touch of garlic butter and parmesan, toasted to perfection with a side of pizza sauce 4.99
French Fries
Basket of golden brown french fries 2.49
Buffalo Wings
Mild - Oven Roasted
Hot - Buffalo Style
served with ranch or bleu cheese
Small (7 pieces) 8.99
Large (14 pieces) 17.98
X-Large (21 pieces) 26.97
Beverages
Can of Pop 1.25
6-Pack of Pop 6.25
Two ounce side cup of extra sauce 0.50
All Prices Exclude Tax • Prices Subject to Change Without Notice • Effective 09/01/2020
Suzy's Pizza
We offer dine-in, delivery and carry out. Get your hot pizza fresh from the oven--just call us at
630-552-1330
141 E. South Street
(Northwest corner Rt 34 and Hale St)
Plano, IL 60545
​​​​​​​